DIMIDE 1/4 Series #6 Clamp
$39.00
$49.00
saving
$10.00
| /
DIMIDE 1/4 Series #6 Clamp
$39.00
$49.00
saving
$10.00
| /
Notice: Due to high demand, 1/4 Series Clamps are on back order, and will ship within 4 weeks.

Have you ever been frustrated with it being too hard to get the clamp force you want? Well you don't have to be frustrated with clamps anymore! We have made the first single-handed clamp that effortlessly delivers clamp force you can trust! Easily deliver 2,200 lbs of reliable clamp force single-handed by connecting an impact driver's quick release chuck to the clamp's impact-rated detent grooved 1/4" hex . You can finally rest assured that your parts are secured without the need to hurt your wrists!

Modular design makes the 1/4 Series Clamp easily customizable for any job. Whether you're looking for a top-quality welding ground clamp or for the ability clamp up pipe, the 1/4 Series Clamp has you covered.

We will constantly be releasing new clamp shoes and accessories to increase the 1/4 Series Clamp's capabilities.
Notice: Do NOT use with a socket impact driver/wrench such as the BOSCH 1800CN 1/4" & 1/2" Socket Ready Impact Driver. To be used ONLY with 1/4" Impact Drivers or clutch drills.

VAT Note: VAT will be collected by the shipper upon delivery for international customers.

1/4 Series Clamp Features
Power up your work holding with the impact-rated, customizable, and effortless clamping.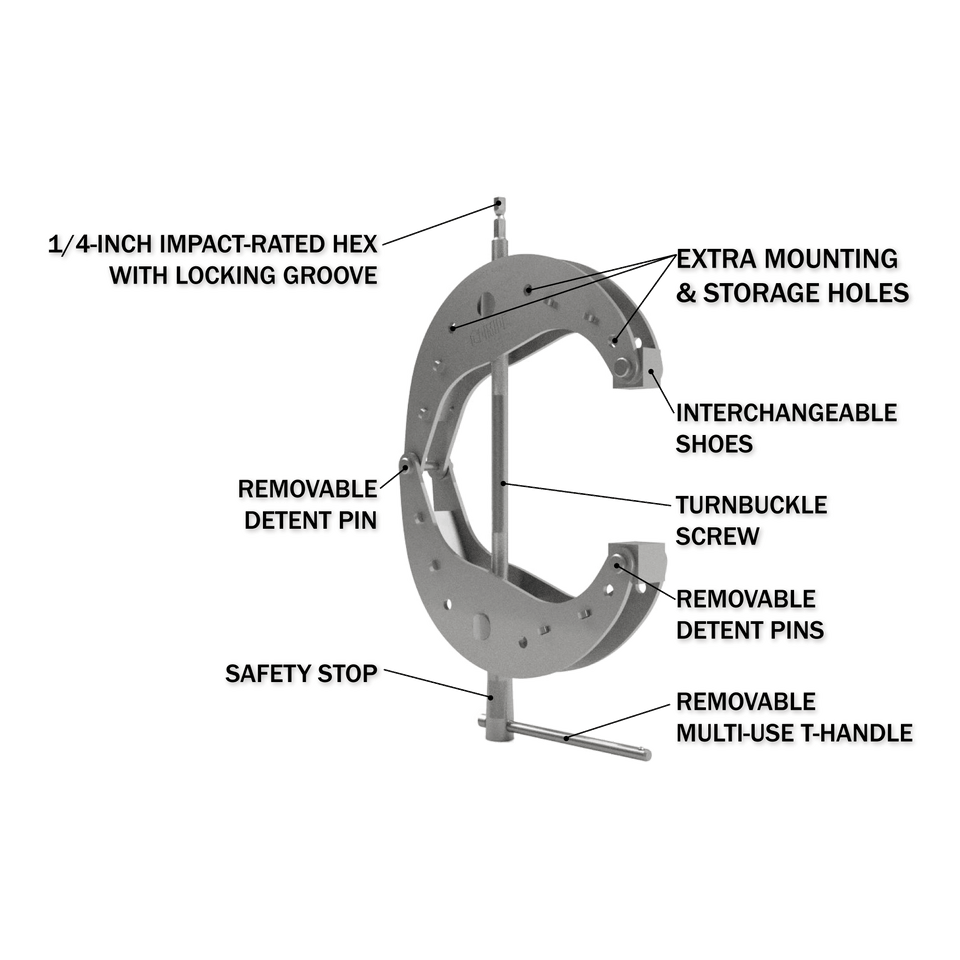 Impact-Rated Construction

Heat-treated chromoly steel and engineered threads makes this clamp ready to handle the brute force of a 1/4 inch impact driver. Start effortlessly clamping down with the speed and power you have always wanted.

Highly Customizable

Removable shoes and extra mounting holes make this clamp ready for any job. Make your own custom shoes or upgrade it with future modular shoes. This is the first clamp that will become even better with time.

*Accessories coming soon

Rapid Turnbuckle Screw

Clamp down with 10X the speed using an impact driver or 2X the speed manually thanks to the turnbuckle design. This way you can clamp down with speed regardless of your preferred tightening method.

Light Weight Construction

Structural optimized with today's best aerospace engineering tools to deliver the strength you need without all the extra weight.
Additional Features
The 1/4 Series Clamp is full of features to increase your productivity.
6 1/4 Series Clamp Specifications
•Clamp Force Rating: 2,500 pounds
•Clamp Force Easily Delivered With 1/4" Impact Driver: 2,200 pounds
*Using 1,825 in*lbs torque Impact Driver
•Impact Driver Rating: 1/4" Battery Powered Impact Driver
•Weight: 2.9 lbs
•Open Throat Depth (max): 4 Inches
•Closed Throat Depth (min): 3 Inches
•Clamp Opening Capacity: 6 Inches
•Time to fully open/close when driven with an impact wrench: 2.0 seconds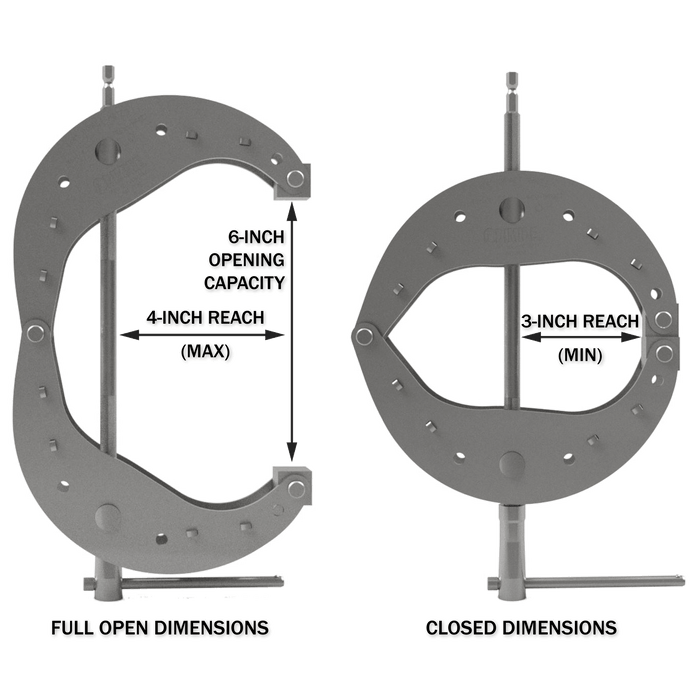 Light Weight ≠ Light Duty
High-strength steel alone wasn't enough to handle the demands we wanted to throw at the DIMIDE 1/4 Series Clamp. We had to go a step further opting for a patented jaw profile, an engineered screw, and an abundance of additional processes to make it ready to stand up to a lifetime of demanding use.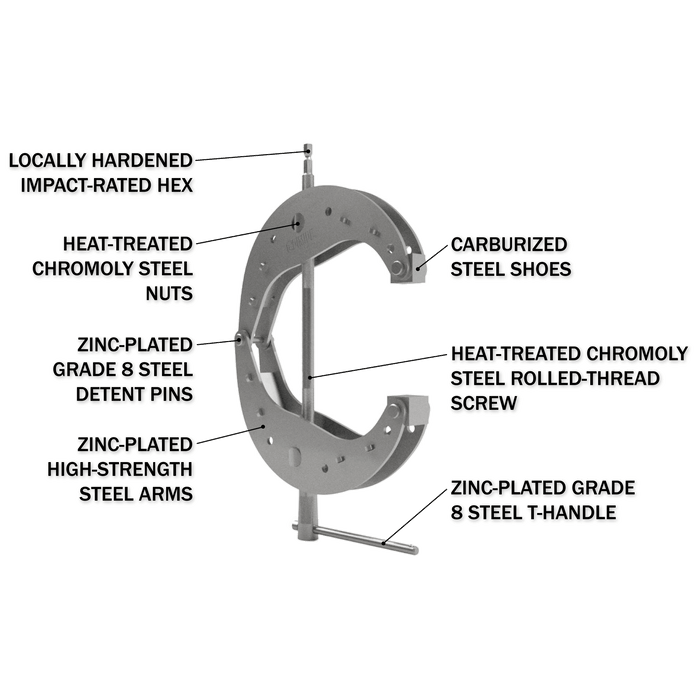 Modular Accessories
Our goal was to make the 1/4 Series Clamp your go-to clamp for any job! To do this, we made it the most modular clamp on the market. This way one clamp will allow you to effortlessly deliver reliable grip on any project.
We are working to make the Modular Pipe Shoe and Modular 400A Welding Ground Shoe available ASAP. After, we will continue to release additional shoes and accessories as demand indicates.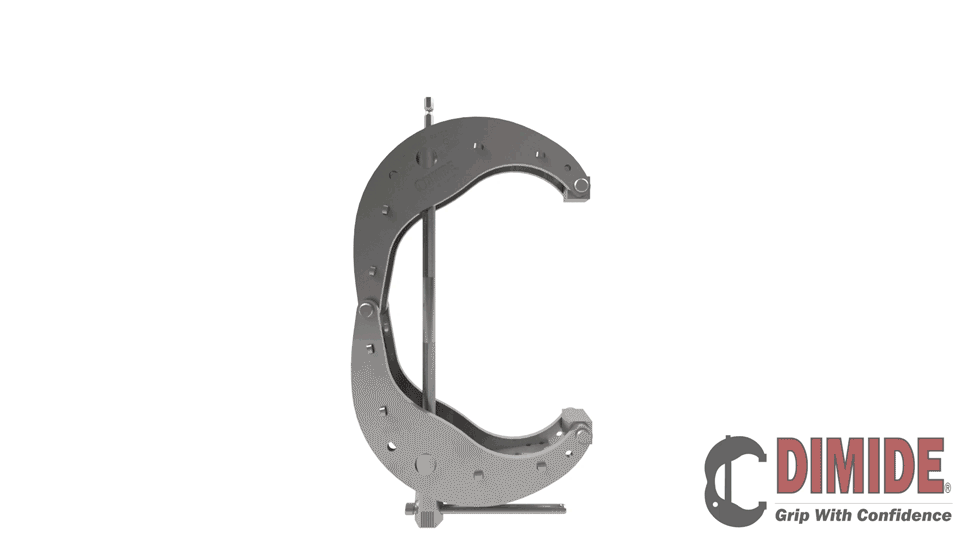 Great product!!
These clamps are one of the best , they don't twist out of line or shift when clamping weld projects.
Powerful little suckers
They're a little different and take a little getting used to, but they're tough, modular and will crush things if you aren't careful. Not too many clamps can say that.
Great clamps
Purchased and have used on a small welding project. Love the Dimide clamps.
Thanks for making a great product.
I haven't received it yet!
Versatile
Love the idea the jaws and handle can be removed to run with an impact driver.