DIMIDE HD Series #12 Clamp | Impact-Rated
DIMIDE HD Series #12 Clamp | Impact-Rated
Back in-stock within 6 weeks. Order today to reserve yours and receive it ASAP.

Stop struggling tightening clamps. Get the clamp force you've always wanted without hurting your wrists. Starting getting a grip you can trust every time with ease.
Stop trading power for speed. The DIMIDE HD Series Clamp combines 10X the speed of other clamps with relentless clamping force that won't let go of your parts.
Stop cluttering up your work with countless under performing clamps. The DIMIDE HD Series Clamp allows you to confidently hold down your work with fewer clamps.
Become the boss of your parts.
Notice: Do not use with a Pneumatic Impact Wrench
VAT Note: VAT will be collected by the shipper upon delivery for international customers.
HD Series Clamp Features
No other clamp comes close to delivering the combination of speed, power, and ease of use.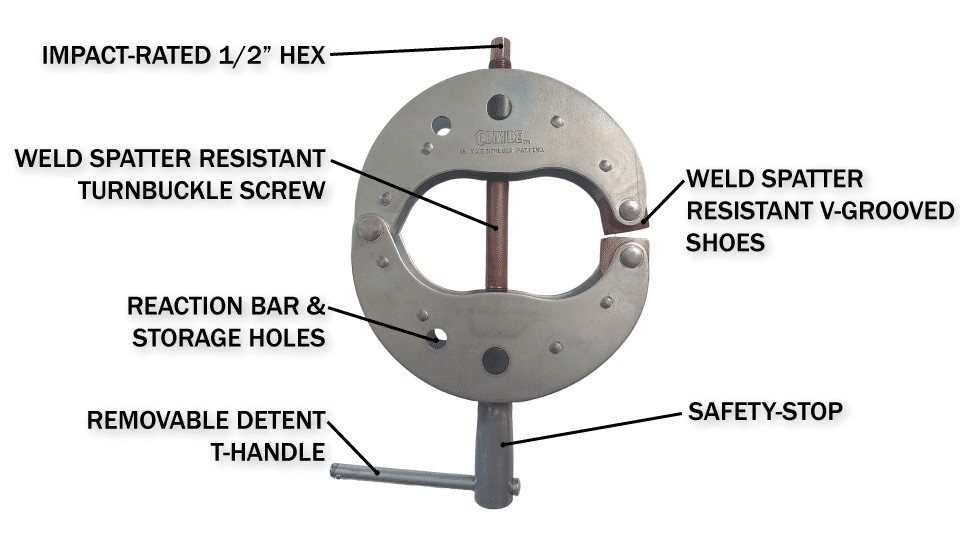 Impact-Rated Construction

Heat-treated chromoly steel and engineered threads makes this clamp ready to handle the brute force of a 1/2 inch impact wrench. Start effortlessly clamping down with the speed and power you have always wanted.

Rapid Turnbuckle Screw

Clamp down with 10X the speed using an impact wrench or 2X the speed manually thanks to the turnbuckle design. This way you can clamp down with speed regardless of your preferred tightening method.

Weld Spatter Protection

Don't fret about weld spatter ruining your clamp. Copper coated screws and shoes ensures that weld spatter won't stick where you least want it.

V-Grooved Shoes

Don't be limited to only clamping flat surfaces. V-grooved shoes make it easy to clamp round stock or pipe.
Additional Features
The HD Series Clamp is full of features to increase your productivity.
Specifications
•Max clamping force: 7,700 pounds
•Impact wrench torque rating:
•400 foot-pounds or
•1/2" Battery Powered Impact Wrench
•Weight: 19.7 lbs
•Open Throat Depth (max): 8-3/4 Inches
•Closed Throat Depth (min): 6-3/4 Inches
•Clamp Opening Capacity: 12 Inches
•Manual torque rating: 180 foot-pounds
•Time to fully open/close when driven with an impact wrench: 3.0 seconds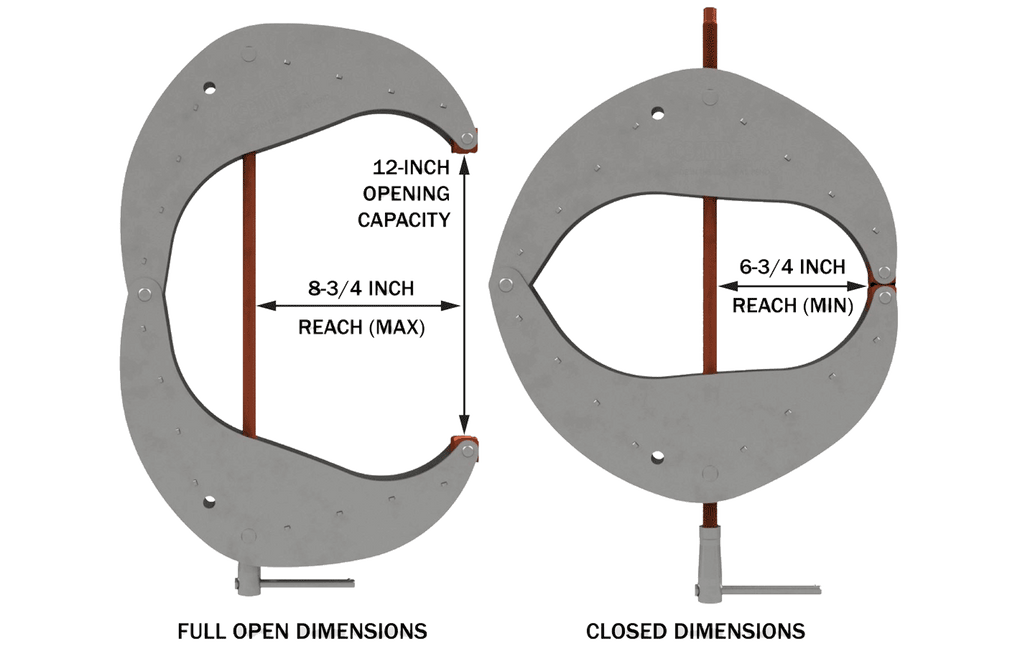 Built For Your Toughest Jobs
High-strength steel alone wasn't enough to handle the demands we wanted to throw at the DIMIDE HD Series Clamp. We had to go a step further opting for a patented jaw profile, a specially engineered screw, and an abundance of additional manufacturing processes to get the strength that it takes to stand up to a lifetime of use with an impact wrench.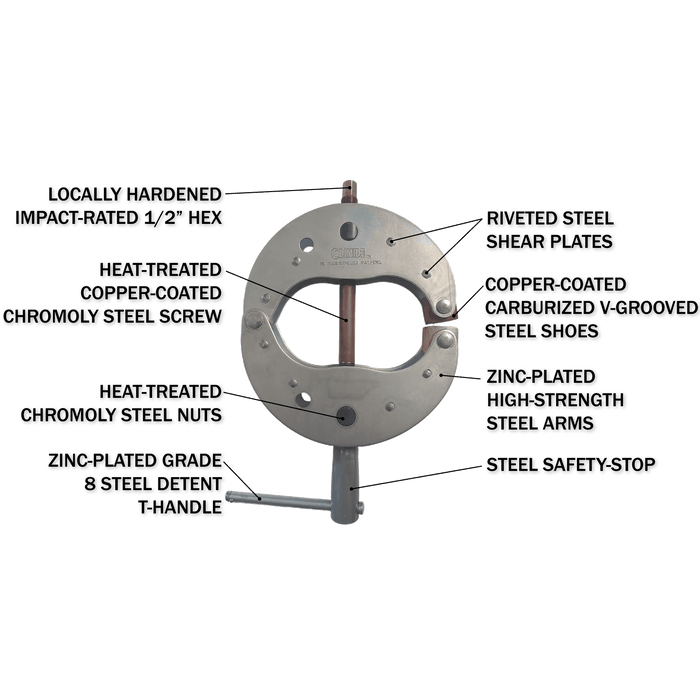 Good Product
These are handy clamps. If using an impact, remember to take the handle out! The large size (#8) is a pretty beefy clamp!
Great Design
Thank you guys for your clamp designs. I was a little skeptical but these are better than I thought. Well worth the money and I plan to purchase some more
Wish I had this year's ago.
Needed something to bring plate edges together during fabrication. 3/8 plate. The #5 clamp with a 1/4 inch battery impact works great.
They work great
These clamps are the answer to the pain in the keester clamps that everyone has in there shop. They are fast opening and closing, they hold on like a 3 year old at a horror house. For crying out loud you get to use an impact to tighten and loosen them! That's a star on your man card in its self! Are they more expensive then the junk at Home Depot and Lowe's? Yes! They are built to work as hard as a border collie at the Wimbledon. These are clamps for men with hair on their chest and dirt on there boots, these ain't made to hold your latte while you drive your Prius to your hair stylist.
All the MEN that read this should buy these clamps, because they scream iam a man! And I may need to clamp something... Really HARD!
Thanks,
JS